Cordwood Construction (and some straw bale too)
Cordwood construction (also known as cordwood masonry or stackwell building) is a traditional building technique that is ideal for using reclaimed materials and for getting creative in design. I have now built – with the help of friends, students, and family – seven such buildings on our land. Each of them is charming in its own way; they are buildings with real personality – humour, even!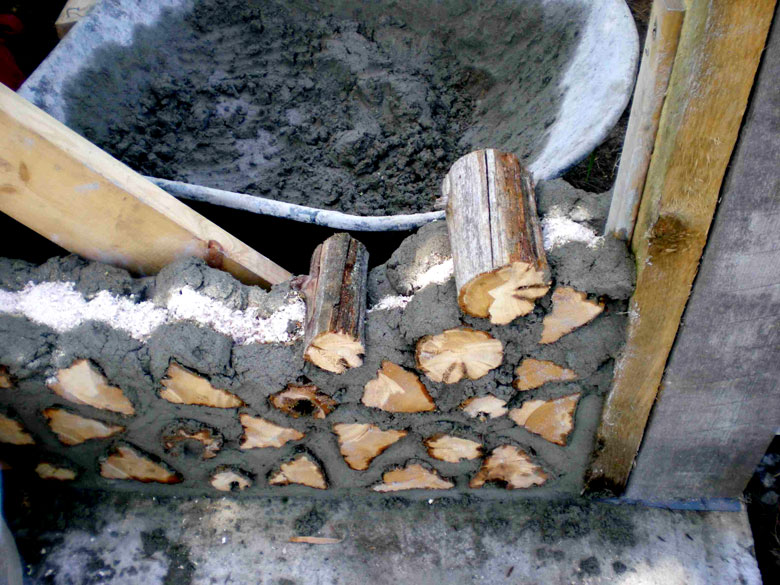 Here is the beginning of a cordwood wall, made with reclaimed cedar fence rails. Because of the easy availability of abandoned cedar fence rails in our area (and because they've been drying for decades), I use them as the primary source of wood. The wood pieces are joined by mortar with a friction fit, and between the interior and exterior mortar layers, there is a layer of insulation made up of sawdust and lime.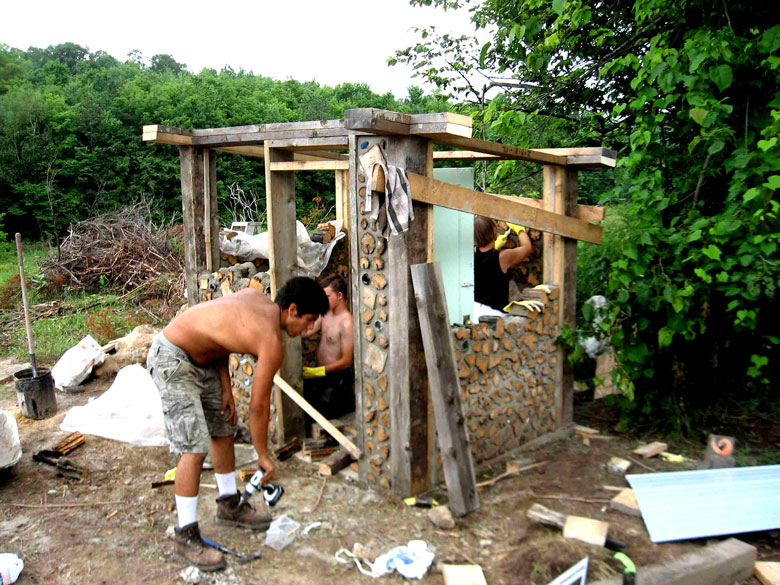 Smokehouse (2008)
This relatively simple building serves as the smokehouse at Wintergreen Studios. Several people are working on it at once, some stacking log ends, some pointing mortar, others mixing new batches of mortar and insulation. I first learned about cordwood building at a workshop hosted by Rob and Jaki Roy, at the Earthwood Building School in West Chazy, New York.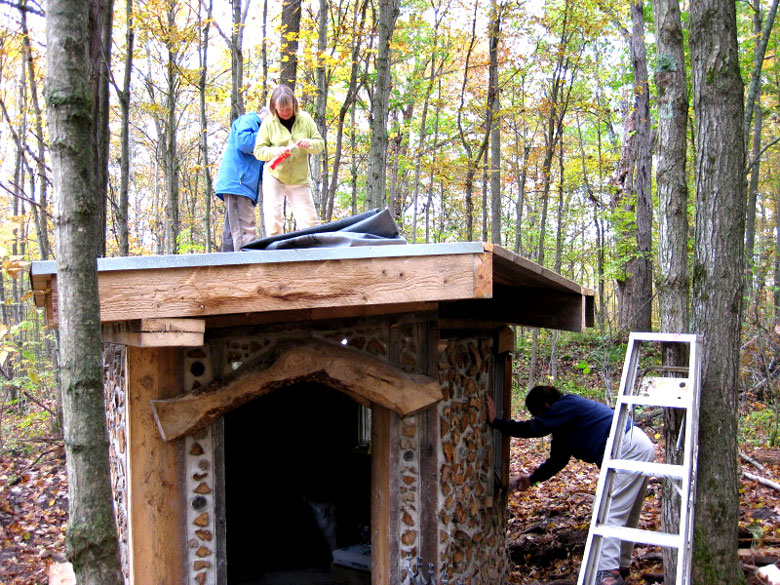 Cordwood Cabin (2010)
This cordwood building is nearly complete, and the roof assembly is well underway. All of our cordwood buildings feature living roofs, with "volunteer" plants from the meadows and forests surrounding them.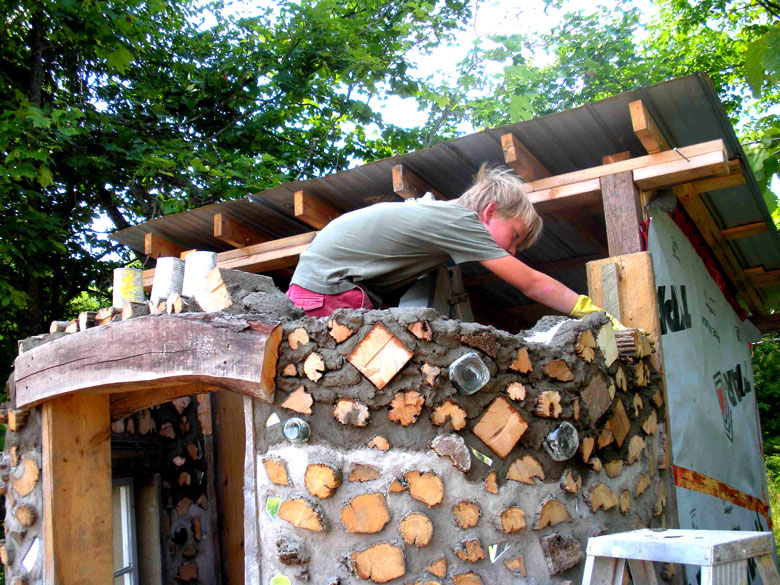 Sauna (2009)
One of the joys of working in cordwood is that the techniques are accessible – children are particularly good at it because they're well experienced in shaping globs of mud! And many times they offer fine ideas for adding "treasures" to the buildings, such as broken bits of mirror or marbles or abandoned pocket watches.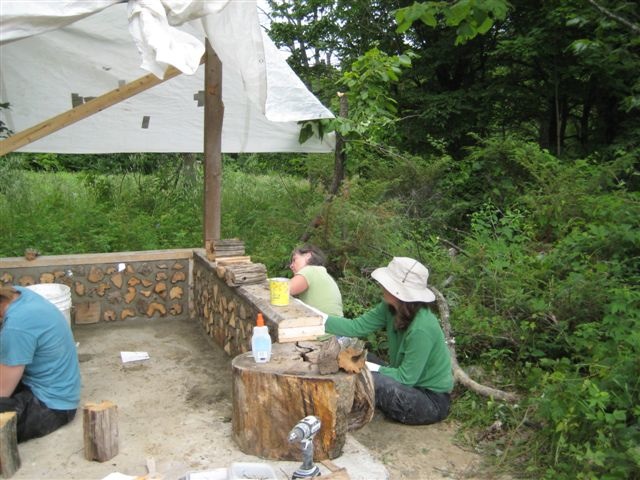 Sauna (2009)
Pictured here is the back side of the sauna, which was built with cordwood along the bottom and cedar walls the rest of the way up. Cordwood can easily be combined with other forms of building. It can be used as infill for post-and-beam, and, because it is load-bearing, entire buildings can be formed with cordwood alone.
The next series of photographs show the finished results of the buildings featured above.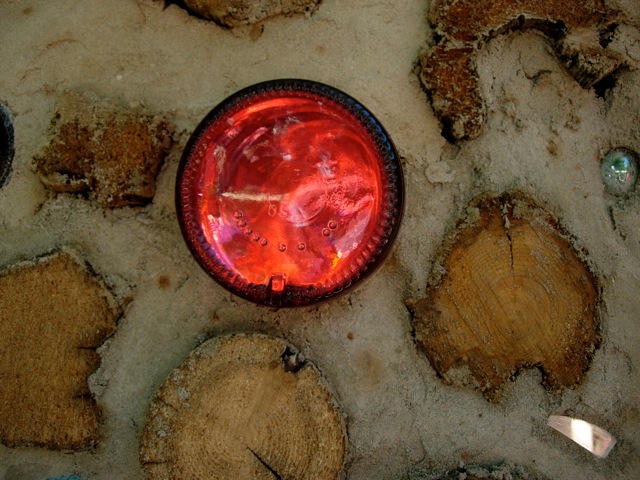 Interior detail (2007)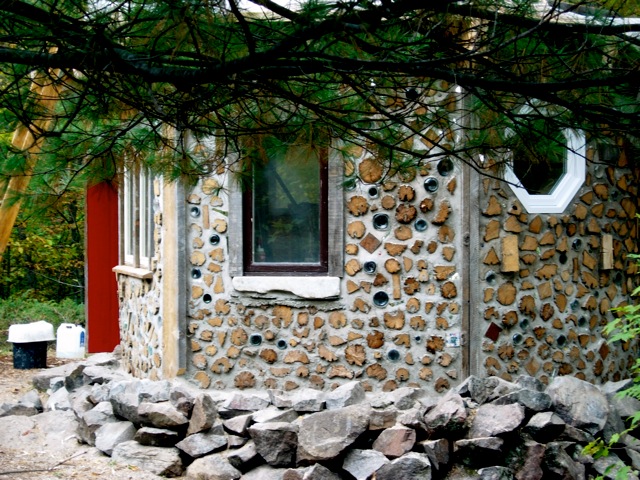 Hobbit House (2007)
Here we see what has become the most well-loved building on the property, the Hobbit House. It is a five-sided building, with cordwood infill and post-and-beam construction and a living roof.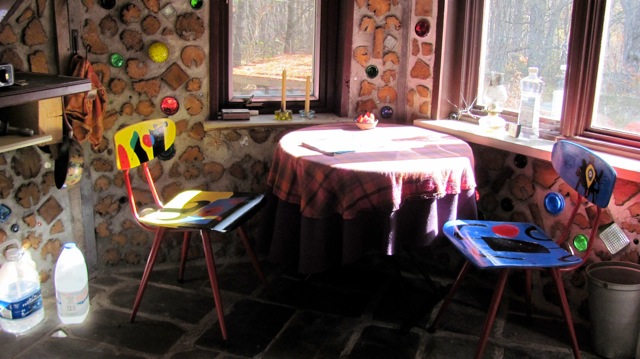 Hobbit House Interior (2007)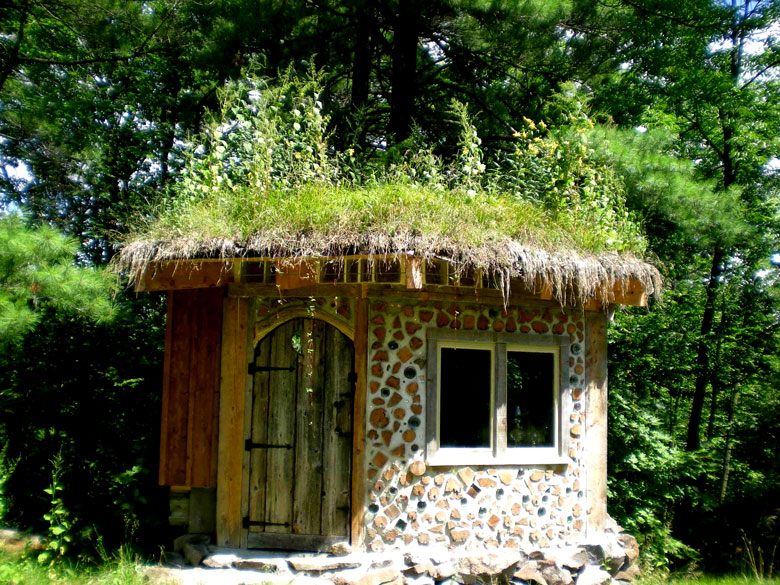 Hobbit House in Summer
The Hobbit House is pictured here in "full bloom" with volunteer plants from the nearby glade and forest. Somehow (birds? the wind?) the Hobbit House boast beautiful 3 foot high coriopsis plants, as well as trailing strawberries across the front door.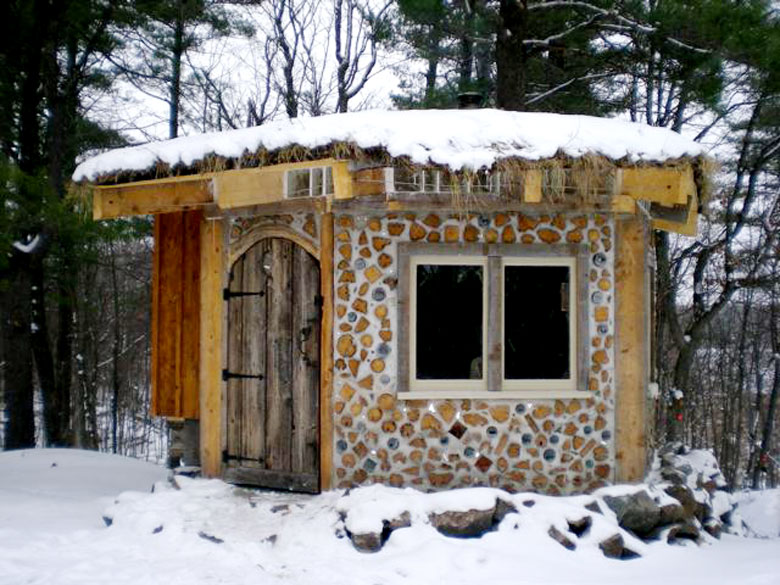 Hobbit House in Winter
Just as beguiling in the winter months, the Hobbit House keeps guests warm with the thermal mass of the slate floor and mortar, as well as the considerable insulation provided by the living roof.
Root Cellar (2008)
Using a piece of road culvert as the base, this cordwood wall forms the front entrance to the root cellar (looks like the door could use a coat of paint!). Pictured here are a group of students who have come to Wintergreen to learn about sustainable building practices and traditional gardening techniques.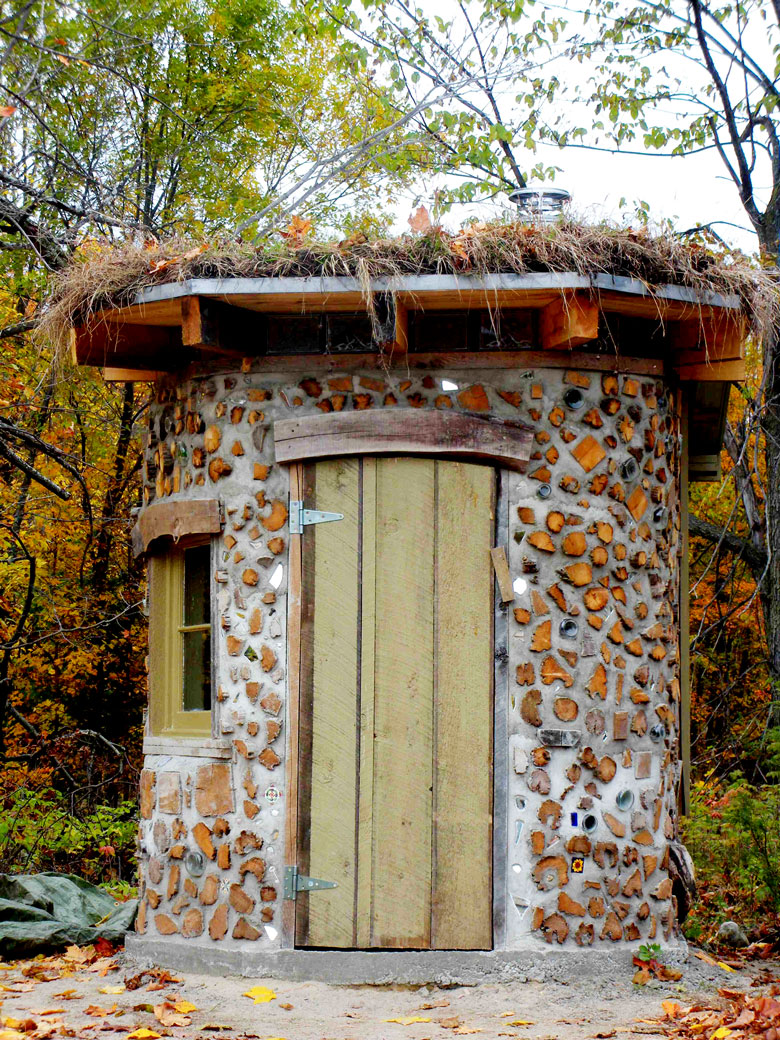 Sauna (2009)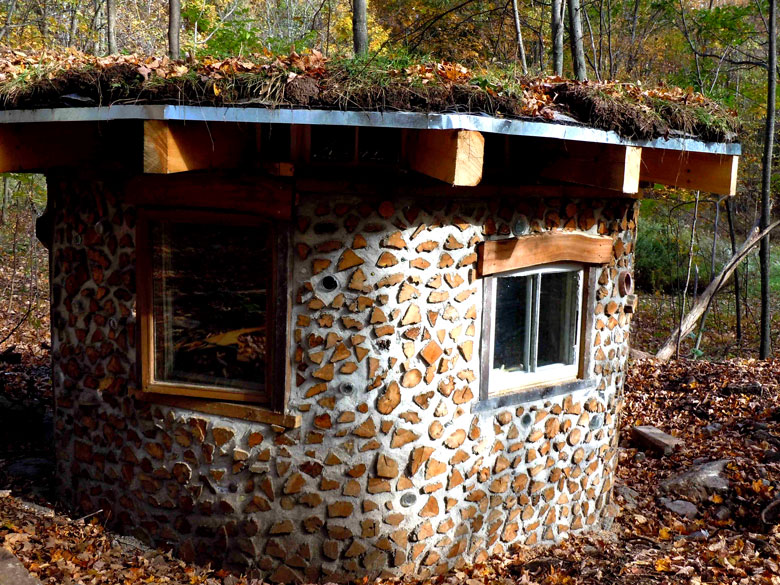 Meadow Hut (2010)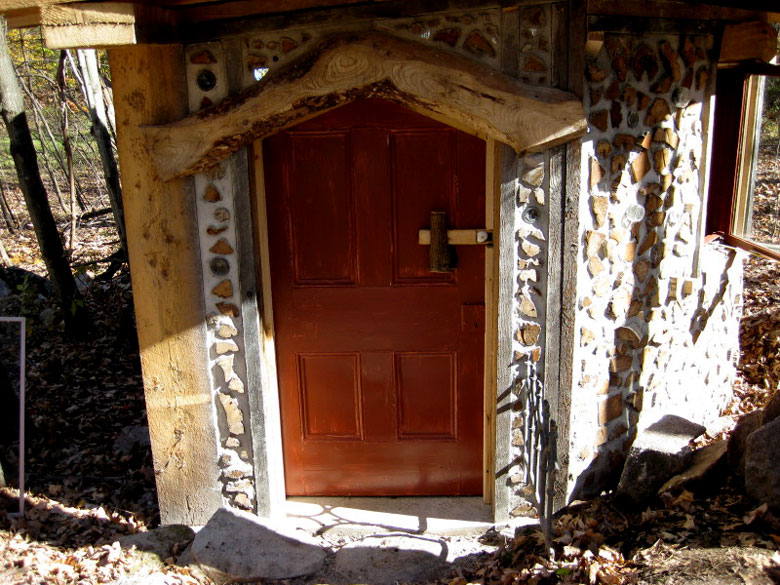 Meadow Hut (2010)
We took a bit of a breather from cordwood buildings in 2011. But we did manage to build a bake oven next to the smokehouse over the fall, winter, and spring — and yes, there's a bit of cordwood in that project too!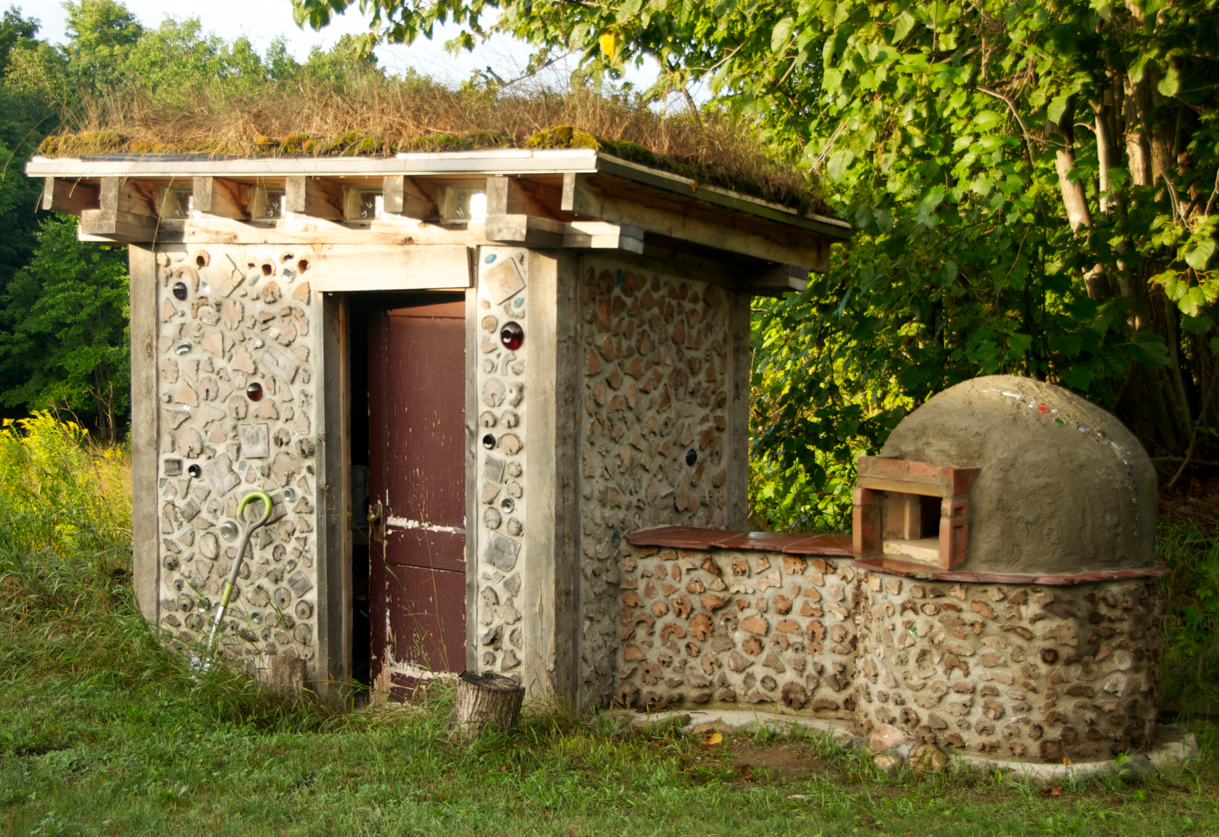 Smokehouse and Bake Oven (2011-2012)
In 2012, we finally "married" cordwood and straw bale. The resulting edifice — known as the Beach House — sits not far from the Wintergreen Lodge.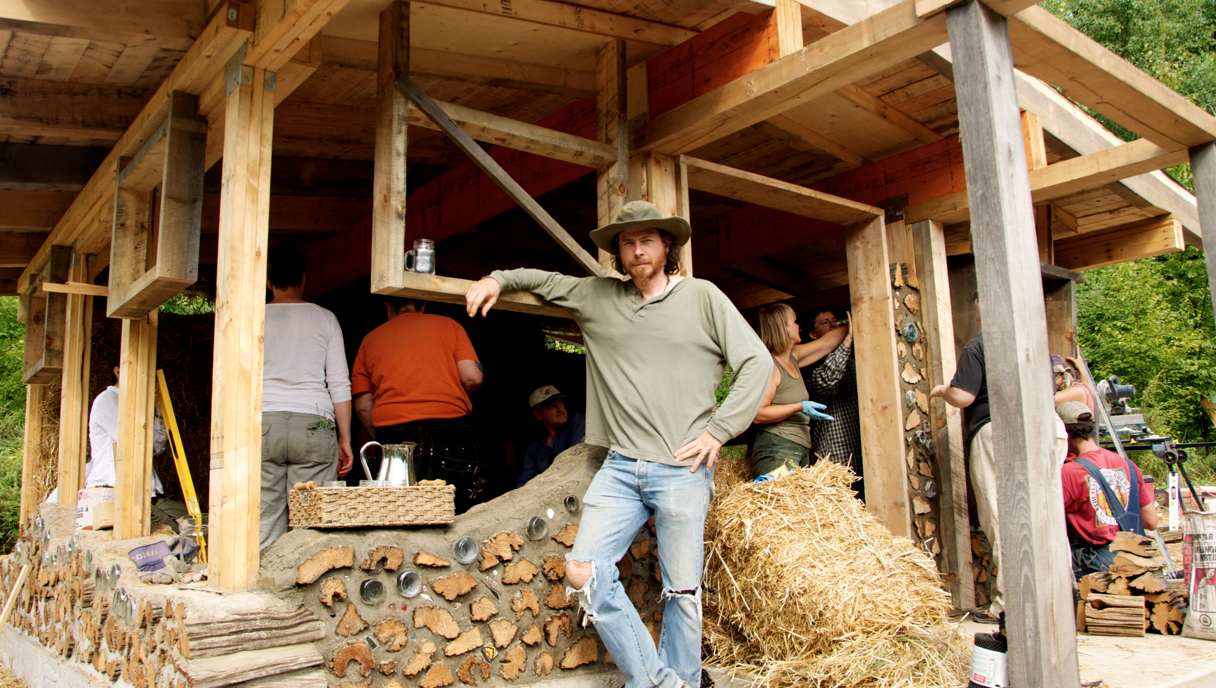 The Beach House was constructed in large part during a course at Wintergreen, offered by me (Rena Upitis) and Tina Therrien of Camel's Back Construction. Here are some more photos of the process …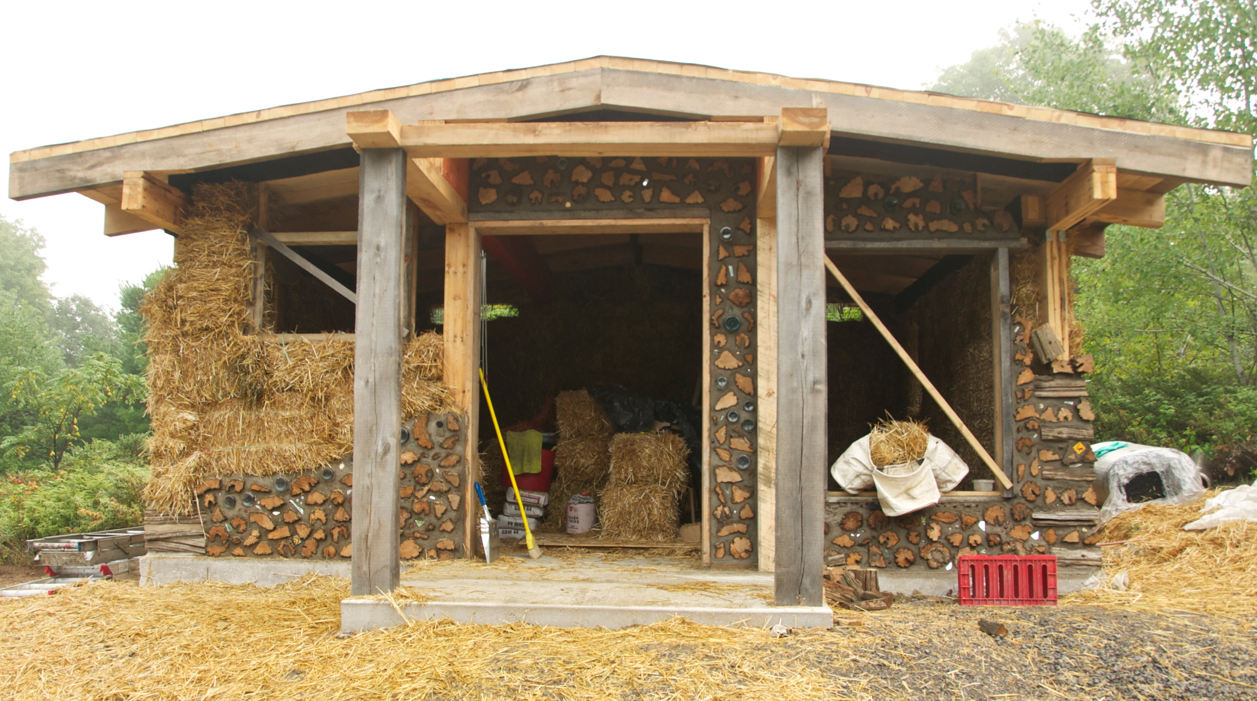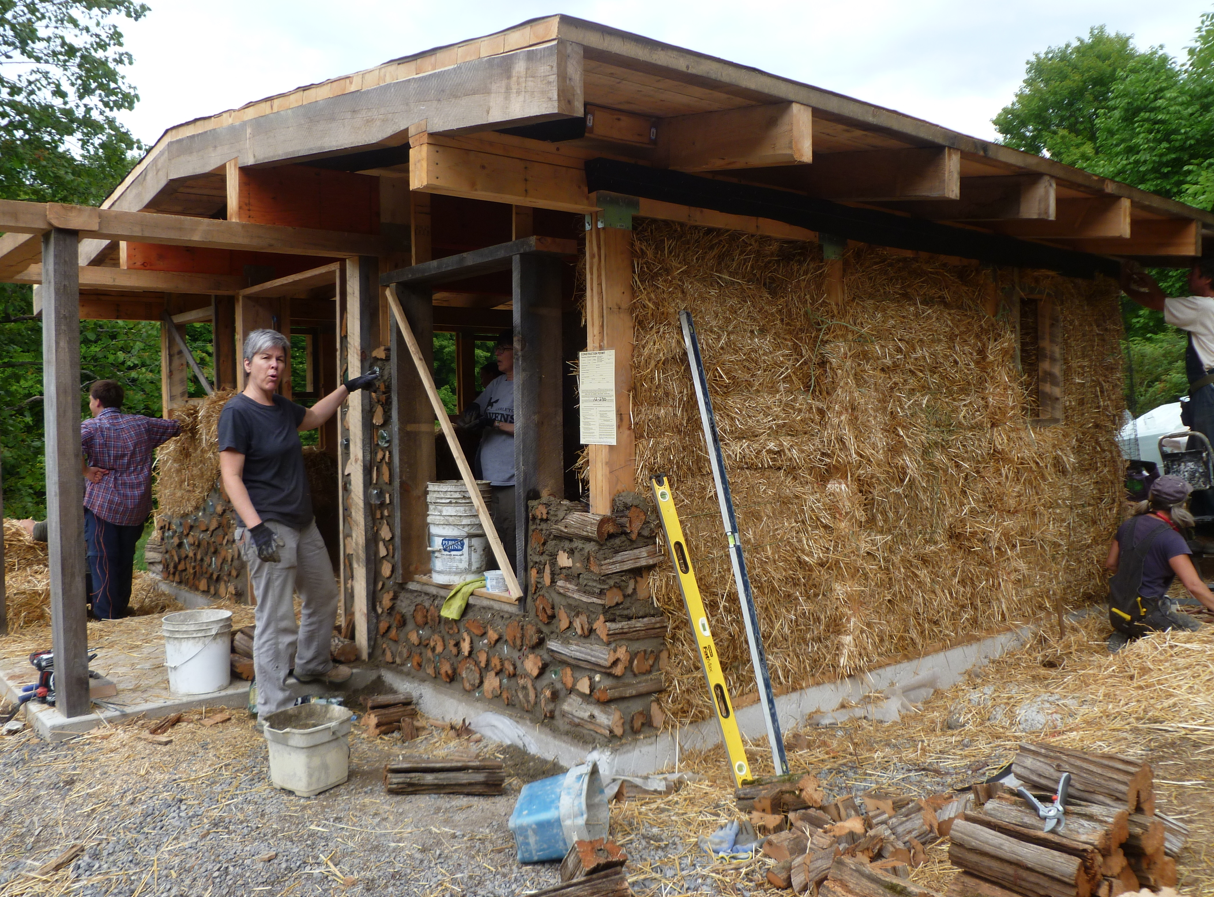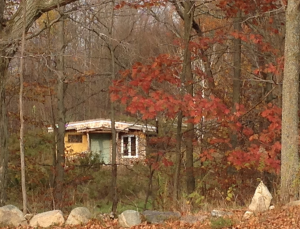 Beach House (2012)
In 2013 we built a cordwood writer's cabin at a site about 15 minutes from Wintergreen. It's a beauty — lots of lovely vistas from the three large windows facing the forest and pond, and many treasures embedded within the walls. Here it is in January 2014.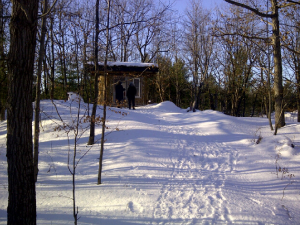 Hermit Hut (2013)